Order a personal configuration of Basemaster program and we will adjust the system for all structural units of your company!
Description
What is program configuration?
Program configuration is a set of tables, fields, reminders, calculations, templates and other settings. These settings may be saved as a backup program file.

Basic version of the program always includes standard configuration. In other words, we are talking about universal settings that are not adapted to a specific business, which makes them convenient to get started in most companies.

We realize that using a personal configuration which was developed and adapted specifically for you and your business processes instead of standard one is the best way to improve your work efficiency when using a program. That is why, besides standard configurations, we also develop personal ones. It can be either a development from scratch or an improvement of a standard configuration.
Through our platform (configuration designer), we are able to develop a configuration for any field of your business in no time at a competitive price!

When ordering personal configuration you get developed especially for you:
tables and fields,
print and email templates,
reminders,
filters,
calculations,
access groups,
website integration,
reports,
and all other kinds of settings.
Examples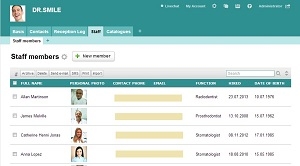 It is important to understand that deleting the unnecessary program content and keeping the one you need, will significantly improve the work efficiency of your employees when using the program. We believe that business does not have to adapt to software, while software itself should adjust to the existing companies requirements and standards.

We have successfully implemented personal configurations in almost 100 companies so far!

In order to begin the development of a personal configuration for your business, just fill in an application for development and send it over to us. Our experts will calculate the cost and terms of your project development.
To order personal configuration development please fill out and submit this form: